The Nobel Lectures 2022
Datum: 2022-12-08
Tid: 09:00 - 15:50
Adress: Aula Magna, Stockholm University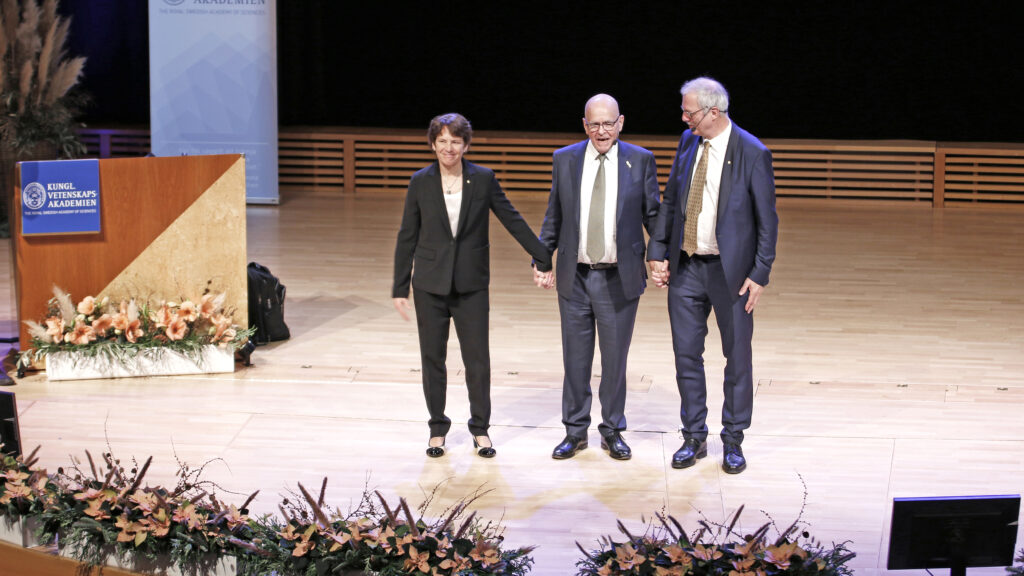 Welcome to the Academy's official Nobel Lectures 2022, with this year's Laureates in Physics, Chemistry and Economic Sciences.
The lectures are open to the public and will be held in English. No registration or entrance fee. Please note that it is not possible to make reservations. The hall will open at 08:40.
09:00–09:05
Welcome address
Birgitta Henriques Normark, President of the Royal Swedish Academy of Sciences
09:05–10:55
THE NOBEL PRIZE IN PHYSICS

From Einstein and Bell to quantum technologies: non-locality a fruitful image
Alain Aspect, Institut d'Optique Graduate School – Université Paris-Saclay and École Polytechnique, Palaiseau, France
Experimental proof that nonlocal quantum entanglement is real
John F. Clauser, J.F. Clauser & Assoc., Walnut Creek, CA, USA
A Voyage through Quantum Wonderland
Anton Zeilinger, University of Vienna and Austrian Academy of Sciences, Austria
11:20–13:10
THE NOBEL PRIZE IN CHEMISTRY

The Bioorthogonal Chemistry Journey, from Laboratory to Life
Carolyn R. Bertozzi, Stanford University, CA, USA and Howard Hughes Medical Institute, USA
Molecular Click Adventures, a Leap from Shoulders of Giants
Morten Meldal, University of Copenhagen, Denmark
Click Chemistry: the Certainty of Chance
K. Barry Sharpless, Scripps Research, La Jolla, CA, USA
14:00–15:50
THE PRIZE IN ECONOMIC SCIENCES

Banking, Credit, and Economic Fluctuations
Ben S. Bernanke, The Brookings Institution, Washington DC, USA
Financial Intermediation and Financial Crises
Douglas W. Diamond, University of Chicago, IL, USA
Multiple Equilibria
Philip H. Dybvig, Washington University in St. Louis, MO, USA

Live webcast
The lectures will be available as live webcast and video on demand at www.kva.se and www.nobelprize.org.
Press information
No registration or accreditation. A copyright agreement with Nobel Prize Outreach is needed to film and broadcast the Nobel Lectures. It may be obtained via e-mail at: media@nobelprize.org . The completed and signed agreement must be returned to Nobel Prize Outreach on 2 December at the latest. For further information regarding the lectures, please contact: eva.nevelius@kva.se.
Kontakt: Peter Brandén
E-post: program@kva.se
The Royal Swedish Academy of Sciences occasionally record and photograph during its events. Photographs and video footage will be processed by the Academy and submitted to third parties for processing. Photographs and videos may also be used in our communication activities to provide information about the Academy's activities in any of the digital and/or printed channels used by the Academy. If you do not consent to this or have other questions about our processing of personal data, please call us on +46 8 673 95 00, or email gdpr@kva.se
Read more about how the Academy processes your personal data