The European Federation of Academies of Sciences and Humanities (ALLEA) the European University Association (EUA) and Science Europe have issued a joint statement on the urgent need to back commitments to academic freedom and university autonomy with solid actions. Universities and academies recently have been the target of increased political pressures in certain countries, for example Hungary.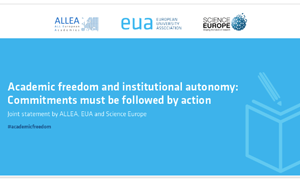 ALLEA brings together almost 60 Academies in more than 40 countries from the Council of Europe region. One of it's members is the Royal Swedish Academy of Sciences. ALLEA, together with the European University Association and Science Europe, represent a vast section of Europe's research and higher education system.
In a press release Antonio Loprieno, President of ALLEA, now says:
"Our knowledge-based societies are dependent on scientific progress, but the fragility of the core principles of academic life, freedom and autonomy, are often disregarded. Only with them can science best serve society. Recent developments in Europe with growing political pressure in certain countries have made us painfully aware of the need to protect these values at all costs. It is time for scientists, but also society at large, to stand up against unjustified infringements and to call for stronger safeguards."
The joint statement calls on governments and public authorities to protect academic freedom and safeguard institutional autonomy by providing sound regulatory frameworks and refraining from interference in the internal affairs of higher education and research institutions. It also urges them to guarantee scholars and students the rights that constitute academic freedom, such as freedom of expression, opinion and thought.
According to ALLEA universities and academies have recently been the target of increased political pressures. ALLEA has intervened with a range of actions, including mediation, statements and open letters, in support of academic institutions under threat over recent years. The present statement, and the partnership with EUA and Science Europe, is a call to action and reflects the organisations' shared concern that academic freedom and institutional autonomy are no longer self-evident in Europe and around the world, with grave consequences for scholars, science and society.
Read ALLEA Press Release and Joint Statement by ALLEA, EUA and Science Europe: Academic freedom and institutional autonomy: Commitments must be followed by action