On 7 December, we open Nobel Week with our popular press conference at the Royal Swedish Academy of Sciences, where we gather this year's Laureates in Physics and Chemistry, as well as the Laureates for the Sveriges Riksbank Prize in Economic Sciences in Memory of Alfred Nobel. Individual interviews with the Laureates will be possible after the press conference.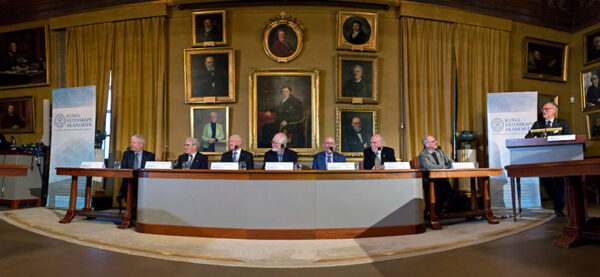 December's Nobel Week contains numerous fascinating and celebratory elements. At the Royal Swedish Academy of Sciences, it has become traditional for us to start this week with a unique opportunity for the press to meet and put questions to the Laureates for the prizes awarded by the Academy of Sciences – Physics, Chemistry and Economic Sciences. 
Please request individual interviews in the message field of the registration form. Interview times are limited and will be offered as available. 
Welcome! 
Date and time:
Friday 7 December
Press conference: 9.30–10.00
Selected individual interviews: 10.00–11.00
Place: Session Hall, Royal Academy of Sciences, Lilla Frescativägen 4 A, Stockholm
Register to the press conference now
Please note that registration is compulsory. Press ID required for admittance! 
Contact
Kajsa Waaghals, Press Secretary, Royal Swedish Academy of Sciences
kajsa.waaghals@kva.se, +46 70 878 6763